Large paint booth,Large Spray Booth,Truck Paint Booth
Large Paint Booth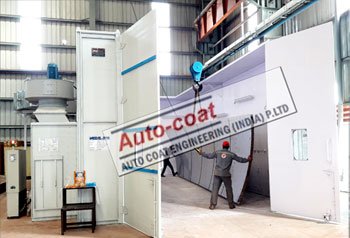 Autocoat Large Paint Booth is designed with the Side Draft Air flow (for medium sized component) is popular because of lower initial cost & lower operating cost.
Dry Type Large Paint Booth is ideally suitable for low volume production in which component or product can be rotated with the help of EOT Crane or underground turntable. & generally open type. Dry Type Large Spray Booth is more popular with handling with EOT Crane or with floor trolley & generally Open Type is suitable for industrial products paint finish quality. Open Type Large Paint Booth is to operate, easy to maintain & economical for low volume production & ideal when Industrial paint finish quality is requirement (not like ultra quality of 4 wheeler automobile)
Autocoat Dry Type Large Paint Booth incorporates metal baffles & replaceable filters as per Autocoat 4 level filtration to exhaust paint free air in the atmosphere to full fill pollution norms. Autocoat Dry Type Large Spray Booth with improved 4 level filtration system reduces recurring filter replacement cost to amazingly low when compared with competition.
For bigger components like Rail Coach, Earth Moving machineries Dry Type or Wet Type, Truck paint booth OR Rail Coach Painting Booth can be selected as per painting consumption & type of paint required. Large Paint Booths are recommended for painting of heavy parts and large components, like wagons, chassis of vehicles, trailers, etc. In a LARGE PAINTING BOOTH In which Air flows from top to bottom or in a Cross Flow Paint Booth Air Draft is from one top corner to other end of the Paint Booth.
For bigger Products & mass production consuming large quantity of paint requiring Water Type Large Paint Booth is recommended. Paint Booth is designed with central venture Water Washing system with online Paint Sludge Removal system & Sedimentation Pit. Such paint Booths are expensive & most suitable for high volume of Paint consumption.
Autocoat Engineering is the experienced Large Spray paint booth,truck paint booth,Rail coach painting, Railway painting plant ,Rail coach painting Booth Manufacturer in India since last 35 years.