Spray Paint Booth For Gear Box Painting
Spray Paint Booth For Gear Box Painting
The purpose of a gearbox is to increase or reduce speed. As a result, torque output will be the inverse of the speed function. If the enclosed drive is a speed reducer (speed output is less than speed input), the torque output will increase; if the drive increases speed, the torque output will decrease. A gearbox is a mechanical component used to change the speed (RPM) and increase the motor's torque in layman's terms. Now regarding the location of the gearbox in the car, it is connected to the motor from one end. The shaft of the motor is associated with the gearbox via gears
Spray booth for gear boxes – Autocoat Engineering has a long experience of more than 53 years & expertise in supplying paint shops for "Gear box painting". We wish to introduce our company as one of the leading manufacturers in the field of manufacturing of Spray Booth for gear box ,paint booth for gear boxes, painting geared motors . For any Painting line choice of process development is very important. Due to our vast experience , we are able to guide our customers in the most effective way.
Spray Painting process to be carried out in a Gear box paint booth - All paints have excellent resistance to various atmospheric conditions & and gives better aesthetics. Surface preparation is a must before any paint film is applied on the gear box body. Gear boxes have multiple components , cast iron , en8 , shafts , stainless steel, mild steel etc .Each part need to be treated separately due to the metallurgic properties. Some components like shaft are to be kept unpainted surfaces , so that they do not loose their mechanical properties. The following surfaces will not require protective coating. To determine unpainted areas eg Anodized Aluminum Grounding Pads Brass Machined Surfaces Bronze Motor Leads Chromium Plated Metals Porcelain Enamel Finishes Copper Rubber Galvanized Steel Stainless Steel Glass.
Stage 1 - Pre-treatment of gear box casting before sending to paint booth for gear box is very necessary. Pre-treatment & cleaning of gear box cast surface is most important stage , as soon as housings are checked and ok for further process, the pre-treatment of gear box casting activity starts. This process can be achieved by least of 7 tank process to higher of 12 tank process. It is always recommended to have zinc phosphating stage in the pretreatment process (hot bath). The phosphate coat creates a thin whitish surface on the cast body and makes it advantageous for good paint adhesion. This pretreatment process for gear box castings, can even be carried out by Shot Blasting Method. For more information Contact Us. Once a Pretreatment activity is completed cast is now transferred to gear box paint booth .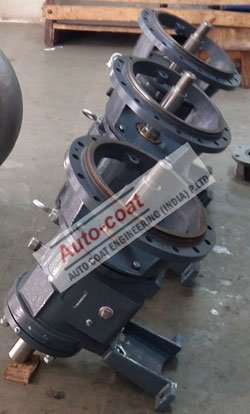 Stage 2 – Gear Box painting – Smaller gear box casting are placed over a jig so that, multiple casting can be painted with grey primer or red oxide in the gear box paint booth. Dry film of the primer is normally 20 – 30 microns by one coat of primer painting . Larger & heavier gear box casting are to be painted one at a time , Electric hoist material handling is preferred in this case. With the selection of right paint booth undesired over sprays are removed from the painting area , thereby creating a smooth primer finish over the cast.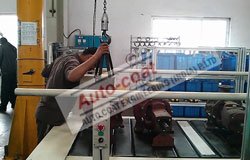 Stage 3 – Application of primer for additional coat building & repainting before final finish coat can be applied. At assembly stages & testing stage gear box primer surface often tend to have grease & oil marks. At testing stage even there is a chance of abrasion or scratches on the gear box primer painted surface. These marks need to be polished by polish papers. Againg a mid primer coat is applied in the Gear box spray booth. We also recommend facility to be clean near the painting Area.
Stage 4 – Application of final finish colour to assembled gear box – After the above stage the assembled gear boxes are either dried on conveyor for gear box painting/drying or by other batch process or directly wet on wet process. The finish paint is applied by two methods for smaller gear boxes Conveyorised gear box painting method & for Large frame or heavy gear boxes, Paint booth for gear box with material handling equipment or EOT arrangement.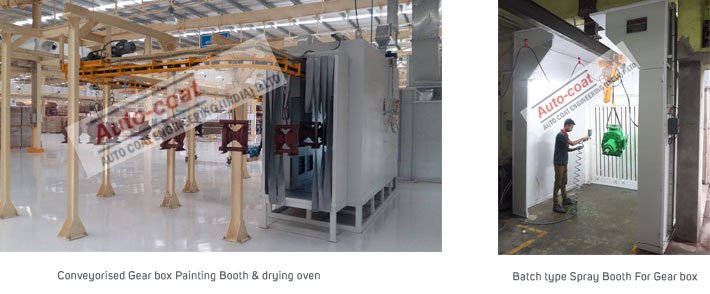 Autocoat has supplied many Gear box paint booths as well as conveyorised geared motor painting lines, which are running almost in 3 shift basis trouble free. We have designed, developed & manufactured Slat Conveyor for heavy assembled geared motor painting. Conveyorised geared motor painting booths are faster & economical.
We have also developed, industrial Spray booth for geared motors with monorail handling equipment for heavy gear boxes with heavy duty slat conveyor for transit , this method enhances the capability of the painter to lift , lower & also to rotate the geared motors. Our gear box spray booths are very efficient & match the pollution board norms. Training sessions are been conducted to educate the painters & subordinates to get maximum productivity & effective maintenance.
Our major clients from Gear Box industry are Akp foundries , Hindustan geared motors , SEW & many more.