Spray Booth For Radiator Painting
Spray Booth For Radiator Painting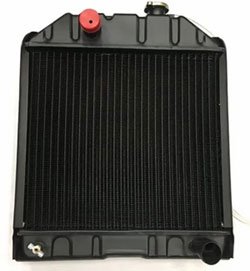 The radiator is one of the most important heat exchanging components in a motor bike or car. In a car both radiator and condenser coil are present . The condenser is a larger heat exchanger installed in front of the vehicle, typically, beside or right in front of the radiator. The ambient air is pushed through the condenser fins by an electric fan and by natural flow during driving . Car radiator and car condenser may look similar, but they serve very different purposes. A radiator cools the engine by circulating coolant through its fins, while a condenser helps to keep the interior of the car cool by circulating refrigerant
Spray booth for Radiators – Autocoat Engineering has a vast experience in the field of pretreatment for radiator painting . Pretreatment of radiators or condensers is little different from regular sheet metal products .The choice of material decides the type of pretreatment to be used.
Spray Painting process in radiator paint booth - Paints and powder coating play important role in aesthetics and durability of a condenser or radiator. Any painting process begins with surface preparation and application of protective coating on radiator surface. Choice of paint or powder should be adaptive to copper fines and ms tank body at the same time. Masking of Unpainted surfaces The following surfaces will not require protective coating. If it's a n aluminium radiator mostly these go through powder coating process . To determine unpainted areas eg Plated components , Brass Machined Surfaces , Chromium Plated Metals, Porcelain Enamel Finishes ,Copper Rubber Galvanized ,Steel Stainless Steel , Glass.
Process 1 - Pre-treatment of radiator body before sending to paint booth for radiator painting. Cleaning of the surface of the Radiator tank after assembly are checked . The pre-treatment of radiator happes during leak testing tank ,two or max three tanks are good enough for the leak testing of the tanks of radiator. Note for aluminium radiator after leak test most of these radiators are sent foe powder coating line .
It is also necessary to remove the water content , that is trapped between the radiator or condenser fins .This percolated water can cause blisters or the water turns to steam when projected to oven heat and gives a very odd surface with holes in the paint film.Therefore it is better to remove the trapped water from the fins by air washing method.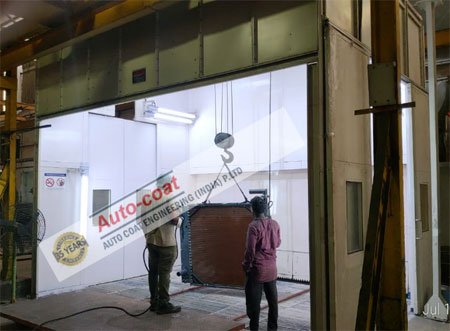 Process 2 – Painting in condenser paint booth , once the radiator or condenser is totally free from water of the previous process , these radiators are painted with directly single final coat. Most of the time it's a heat resistant paint with high gloss. In case of condensers they are painted in condenser spray booth with similar single coat . Condensers often have lighter shade and mostly are built in aluminium construction
Temperature & outside finish of the radiator - The paint coat applied over the radiator have to withstand high temperatures on the external surface of the while it is running & aesthetically look better.
Note : Both condensers , radiators are also powdercoated by various companies , depending on the surface requirement . Powdercoating process is more elaborate when compared to painting . Powdercoating for radiators are done mostly when the radiators are to be exported to other countries . Powdercoating has a good resistance for sea travel & humid areas, normally this process goes good with smaller size radiators.
Conveyorised painting of radiators in radiator spray paint booth – Radiators with for high productivity are placed over a jigs so that, multiple radiator or condensers can be painted in the condenser paint booth. With heavy duty jigs and good spray guns in the spray booth desired paint film in microns is achieved. Paint booth removes undesired over sprays from the painting area , thereby even smooth coating over the cast. Small Conveyorised spray booth for radiators can give production of 40 /100 nos /day on an 8 shift basis.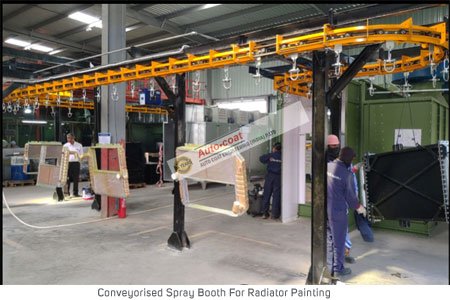 Process 3 – Drying of liquid painted radiators - Combination of mild steel tank , with copper fines & black paint is perfectly suitable of absorbing good amount of heat from the oven . Oven for radiator dying , radiators can be dried by convection type heating of radiation type . Convection type heating takes lot of space for heat exchanger & other accessories, so Autocoat has developed fasted method of drying for radiators .Here the painted radiators are heated by means of infrared lamps or IR lights .The radiations from these IR lamps instantly raze the temperature of the black body, allowing the thinner content to evaporate in a quick interval.
Please see below Conveyorised Painting Plant for Radiators supplied by Autocoat Engineering in Sharjah
Other Ways to Paint Radiators & Condensers – Autocoat has developed specialised material handling paint booth for large condensers & radiators. Application of final finish colour for single painting coat on Large size Radiators can be seen in the bellow photos – This is called batch type painting process , most of the radiator companies paint such large radiators horizontally keeping it on floor , after paint on side of the radiator ,the component is kept for air drying for 8 to 12 hrs & then the other side is turned for painting . This is a very primitive way of painting , this can also cause dust and dirt settling on wet paint and variation in colour shade as they are painted at different timings Paint booth for radiators or spraybooth for condensers with material handling equipment, both sides of the radiators can be painted at the same time with out hassles , this same technique is used in conveyorised spray booth for radiators
Autocoat has supplied many radiator paint booths & conveyorised radiator painting lines, which are running almost in 3 shift basis trouble free. We have designed, developed & manufactured Conveyor Radiator painting lines with conveyor for pre-heating and post heating of radiators , multi weight in same equipment. Conveyorised radiator & condenser painting is very fast & economical.
All above photos of radiator paint booths have dedicated material method that enhances the capability of the painter to lift & lower the heavy engine & also to rotate . Our radiator spray booths are very efficient & match the pollution board norms. Training sessions are been conducted to educate the painters & subordinates to get maximum productivity & effective maintenance.
Our major clients from Radiator & Condenser Industry are Teksons Pvt ltd , Banco Radiators , Serck International group (Sharjah) , Sabah Radiators (Sharjah) , El Salama Radiators (Saudi Arabia) , Prijay Condensers, & many more.