Furniture Paint Booths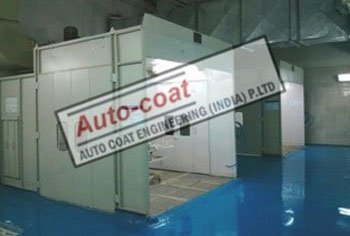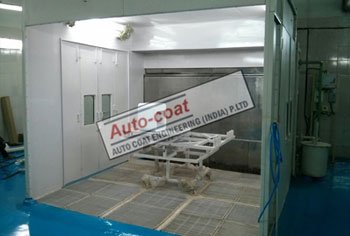 Autocoat Furniture Paint Booths for quality paint finishing be used with overhead conveyorised lines, high production palletized floor conveyorised lines, as well as low production batch systems.
We offer Dry Paint Booths with 4 level filtration for low volume Paint Consumption as well as Water Type Paint Booth for high volume finishing with higher Paint Consumption.
These specialty booths will filter all types of wood finishing coatings, including stains, sealers, fillers as well as topcoat finishes from nitrocellulose to catalyzed lacquer. From furniture like tables and cabinets to toys and pianos, we shall help you give your woodworking products the quality finish. And since our spray booths use higher energy efficiency components and designs, our booths have lower operating costs.
Autocoat Dust Free Painting Plant incorporates filter air inlet setup & clean room concept along with Furniture Paint Booth as well as Dust Free Culture with Epoxy flooring, False Sealing, results A class quality with lowest rejection. Furniture Painting Booth should take care of exhaust of over sprayed particle & should move quickly to the washing chamber. so painter distance, painting height etc. are major design factors to be understood. Autocoat has expertise to design Furniture Spray Booth. For more Technical information for Furniture Spray Booth Please contact us. Ask for Free Technical Bulletins.
Autocoat has designed & developed wide series of Woodworking Paint Booth designed to fulfill stringent pollution norms as well as with amazingly low running cost. Autocoat is Manufacturer & Exporter of Woodworking Spray Booths.
Autocoat Woodworking Painting Booth are built to last: with the quality appearance, 100% assembly & Trials in-house ensure guarantied performance as well as at customers place. Autocoat computer generated labels & lamination, detailed drawings and well documented Manual will save you time and money when it comes to use of Laboratory Paint Booth effectively during its lifetime.
AUTOCOAT DRY TYPE FURNITURE PAINT BOOTH is ideally suitable for Samples of all Non-sticky overspray like Air Dry Paint / Quick Drying Polyurethane Paint or similar Paint which produces Non-sticky over-sprayed Paint Particles.
Autocoat New series of Furniture Spray Booth incorporates: -
Specialty 4 level filtration.
Suitable for low paint consumption & for PU & Air Drying paint (Non sticky paint).
Specialty Metal Baffle design insures filter replacement cost at Amazingly low
Meets pollution norms of Particulate Matter.
Capital cost less than water wash booth.

Unlike Autocoat Woodworking Paint Booth competitors paint booth are often provided with paint filters which chocks in no time (for chocking of filters can be 1 week if paint consumption 10 ltrs. Per/Shift) and must be replaced to get same performance in the paint booth & if not replaced then painter will be uncomfortable & resist carrying on painting Production loss While Submission of Quote Autocoat insists to collect Existing Painting Plant photos & videos, existing dust problems whenever you need to renovate or upgrade your painting facility to achieve A Class quality with lowest rejection. Each quote is given with AutoCAD Drawing.

Autocoat Engineering is the most experienced Furniture Spray Booth Manufacturer in India since last 35 years. Autocoat Engineering have been manufacturing superior quality Furniture Panting Booth among other valuable products .We have wide experience of manufacturing Industrial Paint Booth with different material handling and different product size , and different production volume.

Woodworking Paint Booth Manufacturer in India & Furniture Spray Booth Supplier in India