Lab Booth
Side Draft Booth
Side Draft Paint Booth
Side Draft Spray Booth
Autocoat has designed & developed wide series of LAB BOOTH designed to fulfill stringent pollution norms as well as with amazingly low running cost. Autocoat is Manufacturer & Exporter of LABORATORY BOOTHS .
Autocoat Lab booths are built to last: with the quality appearance, 100% assembly & Trials in-house ensure guarantied performance as well as at customers place. Autocoat computer generated labels & lamination, detailed drawings and well documented Manual will save you time and money when it comes to use of Laboratory Paint Booth effectively during its lifetime.
AUTOCOAT WATER LAB BOOTH is designed with the Pumpless miniature washing chamber which with the turbulent action sparest paint particles. The best advantage of WATER TYPE LAB BOOTH is that lumps of waste paint are collected in the collection tank thereby helping the user to dispose it easily. Autocoat Water Lab Booth is ideally suitable for Samples of all types of Baking or Air Dry Paint / Water Base or Solvent Based Paint / primer or Sealer or Undercoat & Finishing coat / Epoxy or Alkyd or Acrylic or Polyurethane etc
AUTOCOAT DRY LAB BOOTH is ideally suitable for Samples of all Non-sticky overspray like Air Dry Paint / Quick Drying Polyurethane Paint or similar Paint which produces Non-sticky over-sprayed Paint Particles.
Autocoat Rubber Bonding Spray Booth is also popular with Design changes & many Rubber Bonding Paint Booths are in use OEM in India.
Autocoat New series of DRY BACK LAB BOOTH design incorporates: -
Specialty 4 level filtration.
Suitable for low paint consumption & for PU & Air Drying paint (Non sticky paint).
Specialty Metal Baffle design insures filter replacement cost at Amazingly low.
Meets pollution norms of Particulate Matter.
Capital cost less than water wash booth.

Unlike Autocoat Dry Back Paint Booth competitors paint booth are often provided with paint filters which chocks in no time (for chocking of filters can be 1 week if paint consumption 10 ltrs. Per/Shift) and must be replaced to get same performance in the paint booth & if not replaced then painter will be uncomfortable & resist carrying on painting Production loss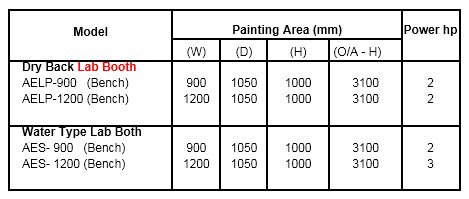 While Submission of Quote Autocoat insists to collect office Room Plan for technical suitability of performance especially if the Lab room is closed Type with the starving for air intake. Each quote is given with AutoCAD Drawing.
Autocoat Engineering is the most experienced Laboratory Booth Manufacturer in India since last 35 years. Autocoat Engineering have been manufacturing superior quality LAB BOOTH IN INDIA among other valuable products .We have wide experience of manufacturing lab Booth with different material handling and different product size , and different production volume.
Lab Booth & Laboratory Booth in India Manufacturer in India & Lab Spray Booth Supplier in India